Working in partnership with Pembrokeshire leisure, Strength Academy Wales (SAW), which is based in the heart of Pembrokeshire has been achieving excellence in weightlifting, disability powerlifting and performance conditioning for sports people, but did you know that most of the success is brought about by the dedicated volunteers and the actual members themselves encouraging many individuals from diverse backgrounds to participate in fitness activities improving their overall health, mental well-being and providing a place to socialise with others.
20 volunteers work hard to create a friendly and informal meeting and training place for an extremely varied range of members. Weightlifting and fitness activities are used as a medium for members to interact socially, build confidence and to encourage each other. The social enterprise implements a model that motivates and empowers people from all backgrounds. It is estimated that almost 40% of club users are from disadvantaged or minority groups, of whom about a quarter are adults and around 75% children. 
A unique feature of the club coaches and volunteers is to connect with its members regardless of their abilities, backgrounds or social situation. It offers a supportive environment for everyone.  Volunteers pride themselves on being able to develop an environment where members become more confident and socially active. It already has a track record of changing attitudes and perceptions, in particular of those who come from disadvantaged groups.
Recent surveys conducted by the organisation revealed that many members, especially u18's formed good friendships and an understanding of other people's needs. A number of females improved their relationships with food and developed positive eating habits, learning how to manage healthy body weights and gained an understand of healthy levels of exercise. Other individuals with additional learning needs have developed socially and in confidence. Older members and volunteers have gained improvements in their mental health through being socially active through training activities, enjoying the training atmosphere and through helping others develop within the club and at events.
The good work by the organisation has led to an InSport award by Disability Sport Wales and demonstrates it's commitment to deliver inclusively of disabled people.
Angela Miles, Disability Sport Development Officer for Pembrokeshire "'We have been working in partnership with Strength Academy Wales on their InSport journey and delighted that they have now achieved the InSport Ribbon award for their commitment to inclusion'.
Gail Jones aged 57, talks about her spinal injury, difficulty with everyday life and long-term goals through training at Strength Academy Wales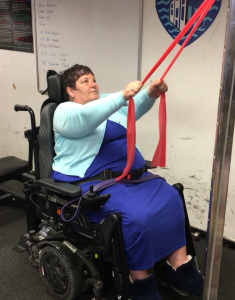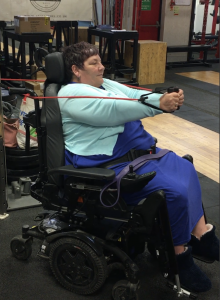 "In August 2017, I had a routine discectomy which had a 5 percent chance of paralysis. Following the operation to remove the intervertebral disc I was left paralysed"
"I spent 4 and a half months at Rookwood rehabilitation hospital in Cardiff. I also had 1-hour long sessions of physiotherapy every week for 5 months but it mostly consisted of the tilt table and medi bike. No actual physio or exercise"
"When back home in Pembrokeshire and after the physiotherapy ended I found there was little support thereafter and difficult to find a place where I could work at building up my fitness and confidence levels"
"I struggle to live an independent life due to the level of my disability (T9) I suffer with leg spasms. I have no reach or bend so therefore cannot open doors or pick things up or reach to fill a kettle/ make food/do shopping. I am unable to transfer due to weight gain and a shoulder injury.
"My long-term goal is to be able to transfer with help, in and out of chairs etc. I feel this will enable me to access areas in Pembrokeshire which I love to visit, such as my favorite beach (on a sand wheelchair). I hope to be able to get out and about more. 
"With accessing fitness training, I hope to develop my flexibility and strength perhaps enabling me to physically move a little more i.e. turn myself in the bed. I may also find I can manage through my core strength and be able reach further and lift more" 
One of SAW's most active volunteers, Darren Rogers aged 47 talks about how volunteering has helped his depression.
"In the past I have suffered with anxiety and low levels of self-esteem. Over a lengthily period I suffered from depression and was prescribed heavy amounts of anti-depressants.This was a time which I found really difficult to cope with and it was a period of my life which affected me in many different ways and those close to me.  I find being around supportive people who I can talk too and actually helping other people, really helps me a lot"
"When I started volunteering at SAW, I helped out at a few local Weightlifting events which I really enjoyed.  I remember the first competition I helped out at, which was a school's event and I was one of the bar loaders. From here on I took more of an interest in the club"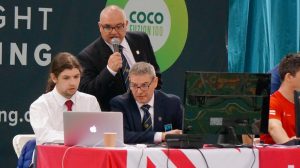 "I was encouraged by the club to take the Technical Officiating course. The volunteers at the club give me praise and encouragement, I made new friends with other members, I also enjoyed doing a bit of training myself and really enjoyed helping out at competitions and in the club, so I gave the officiating course ago and began helping out at larger events, like the Welsh Championships"
"I have to say that volunteering has really given me a focus and I look forward to being part of what seems to be a really supportive community of weightlifting" "I socialise more, far more now than I had previously"
"Sometimes, I can't believe how much has happened. A few years on and I am now heavily involved with Weightlifting in Pembrokeshire and I officiate at Welsh, British and International events. I do really believe that being apart of the weightlifting community has played a vital step in my mental health"
"I am now working towards the highest international officiating award and hoping to officiate at some higher-level competitions such as the European and World Championships, but I still really enjoy supporting the local competitions in Pembrokeshire, where there is loads of weightlifting going on"
"I have also taken the coaching awards and sometimes help out at SAW coaching, I really enjoy that too and look forward to it. I feel lucky that I can help others and also have time to talk and meet new people"
"Being a volunteer has definitely helped me with my self-confidence, I have had a lot of support to develop in this sport and I really do feel a part of a team"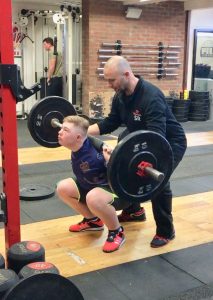 SAW's youth member Bleddyn Gibbs, aged 14 is preparing for his first Strength event
Bleddyn is a pupil at Portfield Special School and a member of a satellite class at Haverfordwest high VC, he has been enjoying training at Strength Academy Wales for a few months now.
During the sessions Bleddyn works at developing Powerlifting movements and a variety of assistant exercises. He has developed strength levels, learnt new skills, improved his knowledge of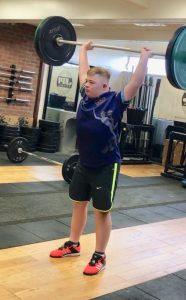 gym safety and how to lift with exceptionally good technique.
More importantly, Bleddyn is really sociable and interacts fully with members of all ages and is a very valued member of SAW.
He has been receiving plenty of support and encouragement from members in his build up to his first event, the 'Pembrokeshire Strength Festival
The Pembrokeshire Strength festival is SAW's first fundraiser to aid the development of a future programme to open up participation to those who are disadvantaged in some way. By competing in this event, Bleddyn is helping the organisation to fundraise.
Following Bleddyn's first competition, the club hope to enter Bleddyn into Special Olympic Powerlifting competitions and have been liaising with 'Special Olympics Wales'.
Forth coming project
The organisation operates an informal referral system with a number of local schools and charity groups providing opportunities for those individuals who need a little boost to their well-being, social interaction, some returning back to fitness or from illness and surgery and others tackling low levels of inactivity and obesity.
The short-term aim is to encourage more individuals from disadvantaged backgrounds to access the facility and benefit from the positive experiences which so many have gained over the previous years. Opening up participation for local residents to improve their overall health, fitness and well-being via a strengthened referral system with local organisations.
Plans are well underway with volunteers networking and collaborating with Pembrokeshire Association of Voluntary Services and an increasing amount of local charities and community groups to plan the health and social prescribing programme.
A short online survey has been released for anyone one who lives in Pembrokeshire who is disadvantaged in any way to complete, the responses will help shape the future service provided.